Aquila's Airpulse PK2: Features in Mobility Management
Aquila's Airpulse PK2 was listed as a featured product in Mobility Management. Check out the listing below: 
Pressure Sore Treatment Cushion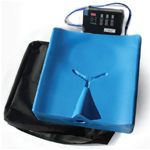 Aquila's Airpulse PK2 is a battery operated pressure ulcer treatment cushion. Air bladders encased in waterproof foam automatically change pressure contact points up to 30 times per hour. It is capable of off-loading full time under an existing pressure ulcer to facilitate healing. Each cushion is custom made to each individuals pressure relief needs. Anti-microbial cover is included.
Source: Mobility Management